TheDayBefore (D-Day countdown)
3.8.7
Easy and Simple to Use Countdown App
We have started to rely on technology so much that we have started to not put a lot of stress on our capability of remembering things. For instance, people used to remember the routes to the places that they visited regularly. However, people now just rely on navigation apps to help them reach any destination regardless of the number of times they visit it. The same is true for remembering birthdays. Before the advent of Facebook and other social media apps, people genuinely used to remember the birthdays of their loved ones. However, if Facebook does not send a reminder these days, you would probably not be able to wish anyone on time. This reliance on technology has led us to not put our memory under any stress. Realizing this, there are now apps available to help you remember dates and important events so that you do not miss anything important. The Day Before is a countdown app which serves constant reminders of events that you deem important so that you never miss out on doing anything on a particular day that you think was important.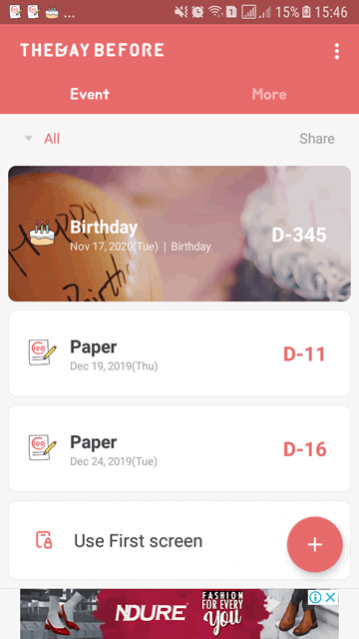 The app has a very simple layout and an even simpler purpose. The basic idea behind the app is to let the user be aware of everything important that is coming up. The user sets the events and how he/she wants to be reminded about it. For instance, you would want a countdown that shows you the days remaining in your next exam. On the other hand, you would want a countdown that lets you know how many months of your pregnancy has passed. There are different ways to count to an event or about an event and the app makes life easy by offering all these options.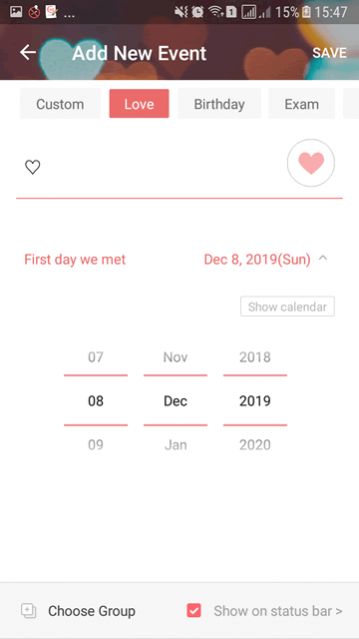 The countdown app could do with a tutorial in order to introduce all of its features but you would get used to it once you add a couple of events. Adding an event that you want to track in one way or another is very easy. On the homepage of the countdown app, you will see a plus sign at the bottom right of the screen. Tapping on it would open an Add New Event tab through which you can add any event. The app offers a number of events like birthday, exam, trip, Christmas etc. while you can also add a custom even of your own. To add the event, you would need to enter the name of the event and decide on an icon that gives an idea about what the event is all about. You can then decide on the way the countdown calculations are performed. The options include days left, day count, month count, week count and date itself. You can also make it a repeat event like payday or an annual event like a birthday or an anniversary. The options are all designed to ensure that the purpose of creating the event is fulfilled. You then need to decide on the date of the event that can be a present date, a future date or an older date. You can then decide on the group with which it should be associated i.e. Family, birthdays, exams, love etc. You can also decide on how the event's countdown would be showed and whether it should be visible on your notifications bar or not. Once you are all done with these choices, the event is added and you can view the countdown with ease.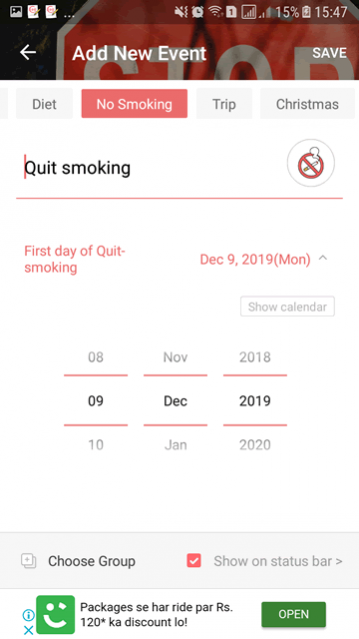 The problem with the app lies in its use, as you are not sure how the app would remind you of a particular event if you do not see it on your notifications bar. The addition of this option in the app's layout would make life extremely easy.
Features:
Simple and easy to use
Variety of countdown options for every event
Nice flexibility in deciding whether the event should show as a notification or not
Conclusion:
The Day Before (D-Day Countdown) is a countdown app that provides you reminders about important events in your life. With a variety of countdown options and reminder settings, the app is great for people who cannot rely on their memory too much.
---
Add a review
Tell us your experience with
TheDayBefore (D-Day countdown)
3.8.7
RELATED PROGRAMS
Our Recommendations
---
---
---
---